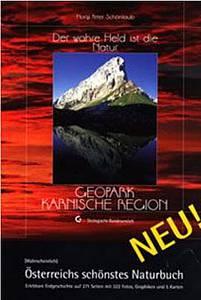 By Hans Peter Schönlaub
At selected sites between the villages of Feistritz in the lower Gail Valley and Maria Luggau in the Lesachtal 500 million years of Earths's history in the Carnic and Gailtal Alps can be explored. Short texts, 322 photos and 5 maps accompany the hiker to roaring waterfalls, quiet mountain lakes, mysterious gorges, vertical limestone cliffs and unique fossil ocurrences. Man is only a background actor, the main role plays the nature and its forces and geological dimensions which are unforgettable for the visitor. Experiencing nature which created unbelievable documents can not only be admired but also need to be protected for future generations.
The fascinating history of nature started some 500 million years ago. At that time the oldest rocks of this region had a position on the other side of the Earth. Since then a true odyssee began across half of the globe. During the Permian Period, some 270 million years ago, the continental plates crossed the equator and gradually drifted to the present postion where they were lifted up to form the Alpine mountain chain. During the Ice Age starting some 1,8 million years ago, the ice formed the present landscape. Following the climax of the glacial period between 22 and 18.000 years the up to 1000 m thick ice started to melt and the nacked and rocky surface was invaded by pioneer plants followed by refforestation between 14 and 13.000 before present.
Editor:
Geological Survey of Austria and the Communities of the Carnic Region.
Text: Hans Peter Schönlaub.
271 pages, 322 photos und graphics and 5 maps.
Wien 2005
ISBN: 3-85316-021-2
EURO 29.00
Available only in German